Greetings from the Michigamme highlands.
We're offering a 14 1/2 foot, 5 thwart traditional design from the Ojibwe Nation of Eastern Lake Superior. The equivalent of a modern pickup truck, this is a typical local work-boat from the days when everyone was self employed, buff, and bad ass. (in a good way!)
Best described in the Bark Canoe Builder's Bible, "The bark canoes and skin boats of North America." Edwin Tappan Adney writes:
"The high ended model, the oldest form known to have been used by this tribe, was narrow bottomed with flaring sides. The canoes were built with careful workmanship and in the old manner, without iron fastenings. They were light and easily paddled, yet would carry a heavy load. The ends were sharp at the line of flotation. The bottom was straight to a point near the ends, where it lifted somewhat. The sheer was rather straight over the middle portion of the canoe, then lifted slightly until close to the stem, where it rose sharply becoming almost perpendicular at the ends of the rail caps. The midsection was slightly rounded across the bottom, with a well rounded bilge and a gently flaring topside. The cross section became v-shaped close to the headboards. The most marked feature in the appearance of this canoe was the profile of the ends."
A very useful craft for one or two people with a moderate load. It will float over 500 lbs and is great for fishing, hunting or trapping, as well as hauling your camp kit or a deer.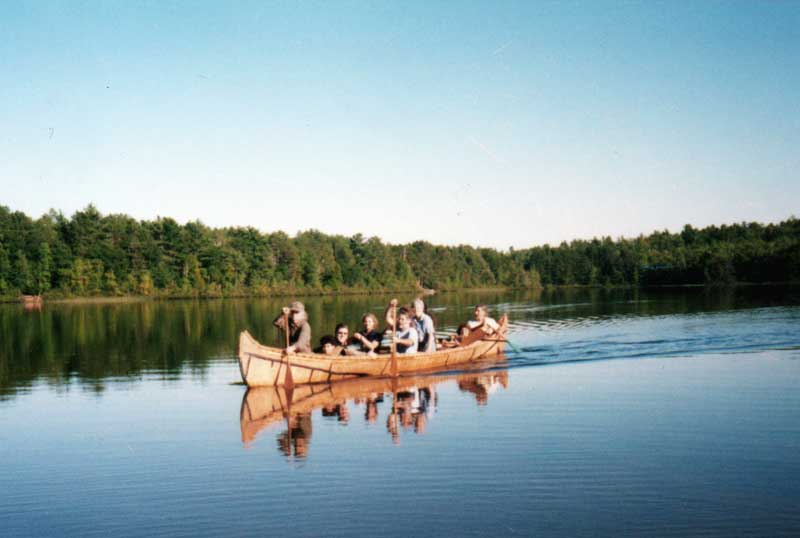 Also on offer is a bit of eye candy, 1/2 and 1/4 scale models of the same design and construction. These are made with leftover materials during the off season.
While not indestructible plastic, these canoes are more durable than most people realize. When wet, the spruce root stitching becomes pliable and the 1/8 to 3/16 inch thick birchbark becomes leather-like.
When rolled over in the sunshine, the layer of pitch under the bark will self heal small leaks. The visible black pitch softens readily, allowing it to be molded with the fingers for on the spot repairs. Of course, too much heat and the black pitch will liquify and run. Watch out for hot sunny days in a parking lot!
We're in love with ours, it travels with us a lot and really gets used. After 10 years, it still self heals and has never had a major leak.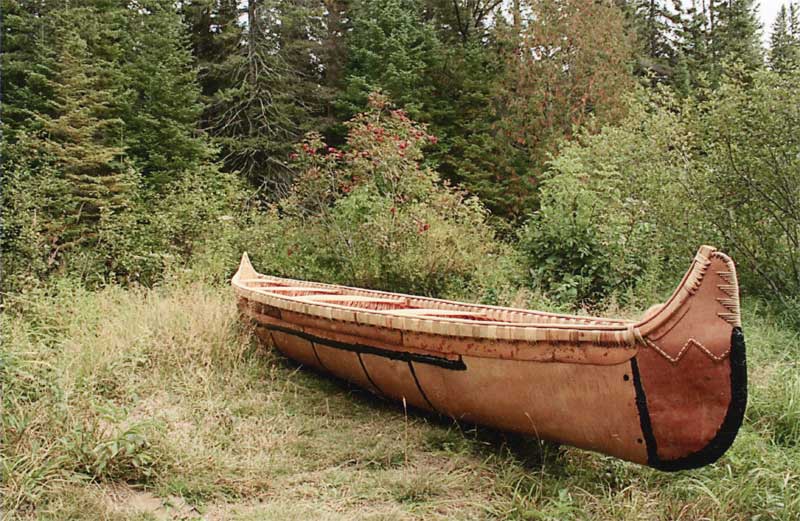 If the canoe is to be regularly transported on car tops, we recommend hidden stainless steel screws to replace the hidden gunwale pegs to help deal with transportation stress and vibration, a modern problem.
My partner and I have spent our adult lives (and we're not young anymore!) honing the skills it takes to build a sustainable life in the forest with a few iron tools and a lot of elbow grease. A chainsaw is used only to cut logs to length before splitting and riving. Birch trees are peeled without felling. Victoria does the stitching, while I do the woodwork.
Having helped build museum reproductions in the past, we can now build a boat or two in the summer. With 2 people working, it takes about 2 weeks to find and gather materials, 2 weeks to process them, and 2 weeks to assemble them into a watercraft, around 500 hours of work.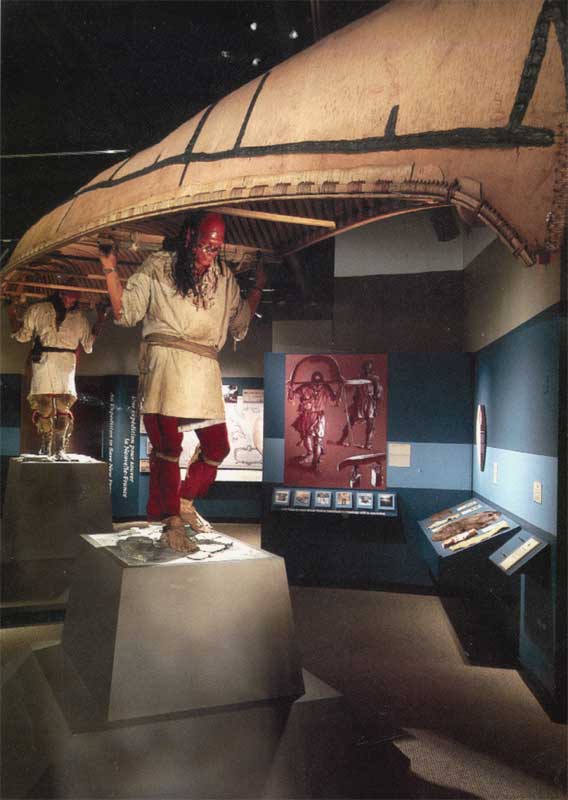 Canoe building is certainly the most highly skilled woodworking this old wood-wright performs. It's a labor of love not a love of labor.
We live in the bush without modern conveniences in a 2-300 inch snowfall region of rugged granite highlands carpeted with a north woods forest. Winter travel is on top of the snow, another form of water travel. Please be patient with communications. We have voice mail and our amplified cellphone works sporadically. Using precious solar electricity, it cannot be left on at all times. We go into town every week and can write a good letter. Email is beyond our reach.
With semi retirement in our sights (There is no full retirement in the bush) and the help of Middle Ear Media, we've managed to come up with this website and try to get a little attention and sell a few birchbark canoes.
Now that we have your attention:
Happy Paddling
John & Victoria Jungwirth